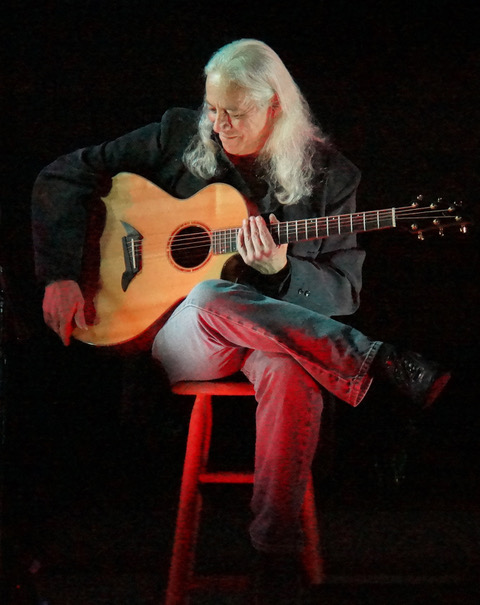 Tickets at Bandon Mercantile Co. & online virtuerecords.com GRAMMY Award-winning Guitarist Ed Gerhard will appear on Tuesday, July 24th, at Langlois Cheese Factory, 94179 Allen Boice Dr

Showtime is 5pm. Tickets $20 in advance / $25 at door and are available at Bandon Mercantile Co and online at virtuerecords.com
From Tokyo to Rome and venues across the US, Ed Gerhard's music has touched concert audiences around the world. Gerhard captivates audiences with a combination of virtuosity, generosity and humor. Known for his gorgeous tone and compositional depth, Gerhard can move a listener with a single note. Gerhard will share an evening of exquisite guitar music- performing material from his upcoming CD as well as concert favorites. Performing on 6-string, slide guitar and Hawaiian lap steel, Gerhard combines rare compositional depth with inspired virtuosity.

Ed performs on his recently released Ed Gerhard Signature Guitar built by Breedlove Guitars from Bend, Oregon. He has spent the past year touring worldwide to introduce the guitar in China, Japan, Korea, Canada and across the US. Gerhard was awarded the coveted GRAMMY for his work on "Henry Mancini; Pink Guitar.". His CD "Luna" is featured in Acoustic Guitar Magazine's 20th Anniversary list of the "240 Essential Albums."

"This soulful album of original compositions rich in melody, chordal complexity and stylistic variety proves why Gerhard is considered to have the most exquisite acoustic guitar tone on the planet." - Acoustic Guitar Magazine
 
"Gerhard does not write instrumentals. He writes songs only a guitar can sing." - Boston Globe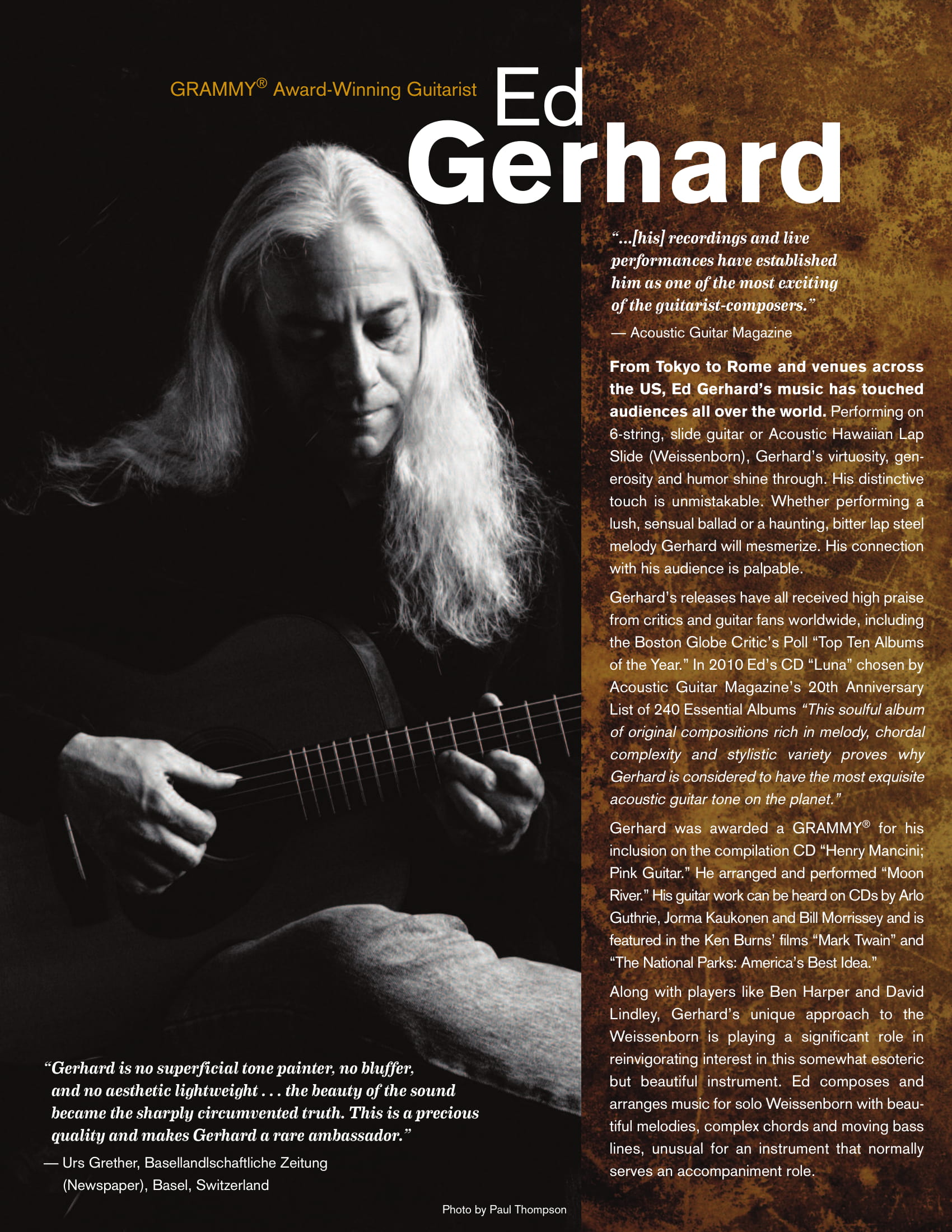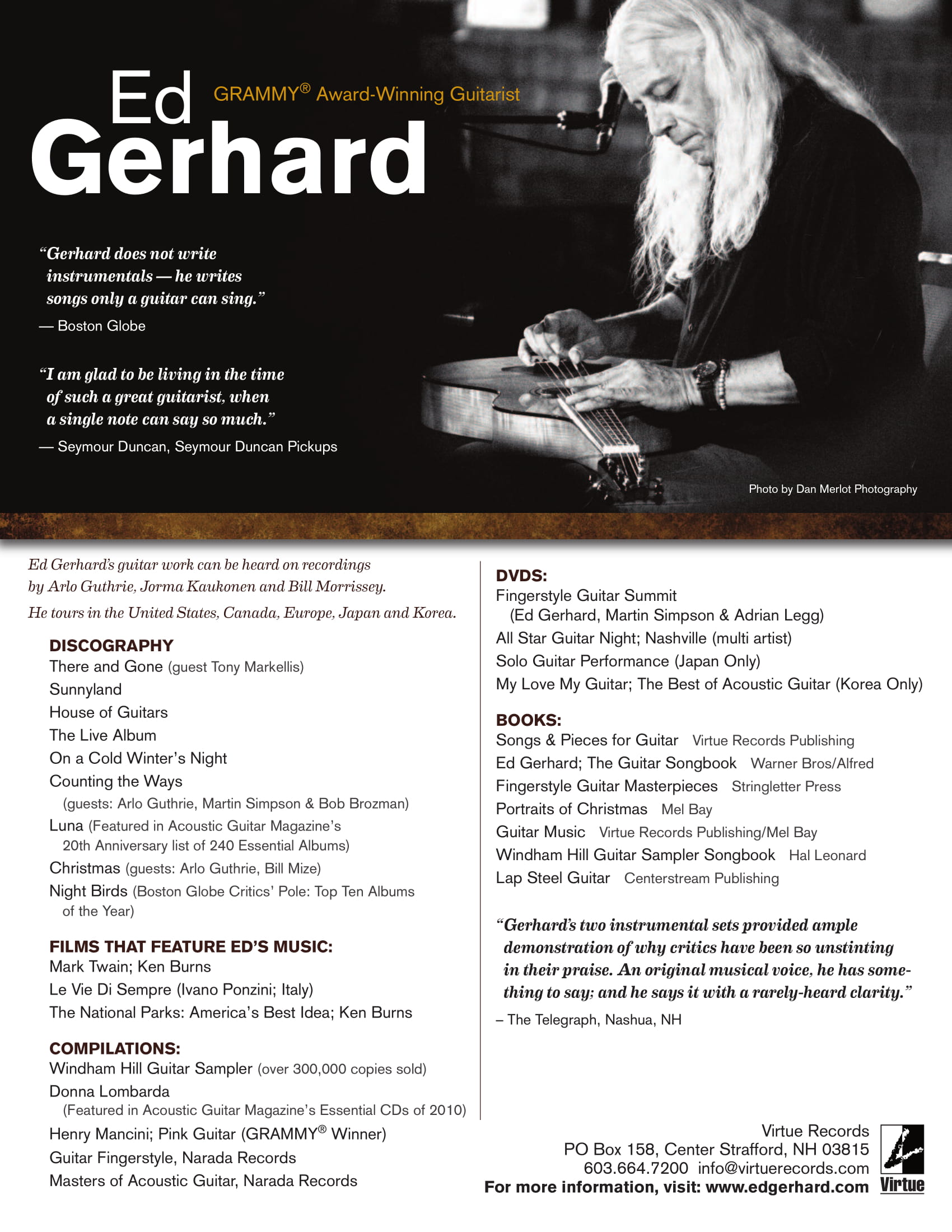 Jazz pianist and vocalist Will 'Zeke' Hubel connects with left coast friends to bring you music from the American
Songbook, inventive original versions of jazz standards, and original works.
Will 'Zeke' Hubel - keyboard and vocals / Greg Young - bass / Roy Eikamp - drums / Marty Abts - guitar
Chad has been a rodeo announcer on the east coast. 
Voted by bull riders as the top announcer 3 years in a row.
Moved his family to our community.
We are fortunate to have him.
Rock Folk, Folk Rock
Peter Wilson - Vocals ans Acoustic Guitar / Elijah Vaughn - Electric Guitar / Gary Dickerson - Bandjo
Collin Smith - Bass Guitar / David Andrist - Percussion
hppt://bonemountianstringband.bandcamp.com.released
Sly & Friends are a heavily vocal band, offering acoustic arrangements of american classics from Folk to Motown, Blues and popular songs of the sixties though the present day.
"Sly" Jim Sylvester, on acoustic guitar, vocals / Holly Sylvester, on bass , vocals / Bryan Ibach , on mandolin , vocals /
Perry St. John, on congas, vocals
A jazz quartet with roots in country and its soul in soul.
Band leader Adam Derarzo - drums / joined by Max on bass /  Clark on keys / T-Bird guitar and vocals.
tbird.wordpress.com